Ariane de Guillenchmidt–Guignot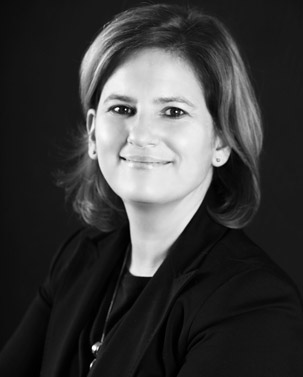 A graduate of the Institut d'Etudes Politiques of Paris with a doctorate in private law from the University of Paris II – Pantheon – Assas (2007), Ariane is one of our Partners. She advises on French and international law relating to individuals and private wealth, as well as criminal law and sports law.
Before joining the firm, she first worked in London for a financial ratings agency, then returned to France to teach at university while writing her doctoral thesis and working with lawyers at the State Council (Conseil d'Etat) and Court of Cassation (Cour de Cassation) for 6 years. After a year at the Court of Cassation as a judicial clerk to the First President, she established and managed her own law firm (AGG-avocats) in Paris, advising on sports and family law for 7 years. She then joined Fidal as a Partner in 2018, where she developed the same activities for three years.
Bilingual in French and English, Ariane is also taking a course in Russian (level B2).  Vice President of the French Association of Doctors of Law, she is also a director of the French section of the Association of Franco-British Lawyers and a member of other associations of private international law and Franco-American law. Lastly, she lectures in the negotiation and drafting of contracts at the University of Paris Saclay on the Masters II programme. 
Coordonnées
+33 (0)1 44 29 33 24
- adeguillenchmidt[at]bornhauser-avocats.fr
- aguignot[at]bornhauser-avocats.fr

Expertise
Droit de la famille et des personnes  :
Conseil en droit successoral : aide à la rédaction des déclarations de succession, négociations entre héritiers, aide à la rédaction de mandats posthumes ou de protection future… 
Contentieux successoral : demandes de réduction des libéralités excessives, contestations de testaments et de mandats, atteintes à la réserve etc…
Successions internationales : conseil sur la loi applicable à la succession future (Professio Juris…), trusts, contentieux en matière successorale internationale, Exequatur
Divorces par consentement mutuel (rédaction et négociation des conventions) et divorces contentieux : procédure et/ou transactions
Liquidation de régimes matrimoniaux
Divorces internationaux
Filiation, contentieux de l'état civil, conflits parentaux
Droit de l'immigration (titres de séjour, régularisations)
Protection des personnes vulnérables : mise sous protection (tutelles, curatelles, habilitation familiale…) ; contentieux devant le juge de la protection
Gestion juridique du patrimoine des mineurs, droit des mineurs,
Sociétés civiles immobilières
Droit pénal : 
Gardes à vue, enquêtes préliminaires, Instruction,
Procès correctionnels
Juridiction des mineurs
Droit du sport 
Négociation des contrats de sponsoring
Sociétés d'images
Transferts